My dad and I planted a garden last weekend. I am totally pumped for fresh fruits, veggies and herbs!
We planted strawberries, squash, tomatoes, potatoes, onions, garlic, and several herbs.
I've noticed a fun trend of clever garden markers circulating around on the interwebs. Here's a collection of inexpensive and DIY garden markers. I need to make some, especially for my herb garden since I have no idea what it what anymore. It's hard to tell dirt apart from dirt!
1. Vintage Silverware
I have to give a shout out to one of my favorite Esty shops/websites, Monkeys Always Look. I stumbled upon this shop on Etsy when I was shopping for wedding gifts for my parents. Allison makes awesome jewelry, so I had her customize three sterling silver rings for my three moms with words that describe them. My mom's word was "inspirational," my step mom's word was "amazing," and my mother-in-law's word was "compassionate." They loved their gifts.
She also sells vintage silverware garden markers! In fact, I just bought my dad a set of three for his birthday. Check these bad boys out:
Too cool, right? You can also make these yourself if you have all the right tools and a lot of old silverware! Here's a metal stamping tutorial from Happy Hour Projects I found online a while ago. Someday I'll try this out… for now, I'm glad to have Allison as my hookup!
2. Painted Stones
Thanks to my older sister for pinning this cool idea on Pinterest the other day. Lu Bird Baby created garden markers out of stones by painting the stones with the name and picture of the herb. If you have an abundance of rocks outside your home, this could be a super inexpensive way to create garden markers.
3. Twigs
These twigs-turned-garden-markers are way cool. They are created out of Manitoba Maple twigs and are available on Etsy from noJOisaverage. These markers are even safe for composting! Hop on over and check out Jo's shop to learn more about these fun creations.
4. Corks 
I should totally make these with all of my leftover wine corks from our wedding. Check out the tutorial on these DIY cork garden markers from My Chic Life. They are too stinking cute!
5. Aluminum Tape
Aunt Peaches does a fun tutorial on making these garden markers from Aluminum Duct Tape and plastic knives. How clever!
6. Wooden spoons
Don't have any vintage silverware around? No problem! Find yourself a few wooden spoons to create you own markers. Little Green Fingers found this set at a dollar store! It would be cute to paint these like the stones, too!
7. Clothespins
From Glue and Glitter, here's a great way to make garden markers. All you need are clothespins, skewers and a permanent marker.
8. Chalkboard markers
I really like everyone's creative use of chalkboard paint these days. Crate and Barrel hopped on that train, creating chalkboard garden markers! Grab a little chalkboard paint and a few pieces of wood — popsicle sticks, even — and make these yourself! But be careful, not quite sure what would happen to your markers after you water your garden!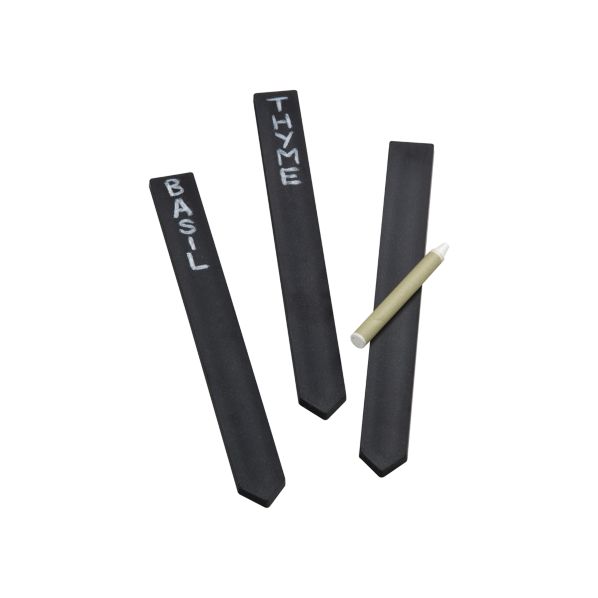 9. Popsicle sticks
Last, but certainly not least, save up your popsicle sticks to create your own garden markers. Check out One Artsy Mama's DIY tutorial on this project. These are too cute and look extra sturdy since they have two stakes to in the ground. If you have a rowdy dog who runs by your garden every day, that might sound as good to you as it sounds to me!
Did I miss any fun ideas?! I'm sure I did. If you have a fun garden marker tutorial, you should totally share it with me! I'd love to see what you come up with. I'll share mine once I figure out what I am gonna do 🙂